Welcome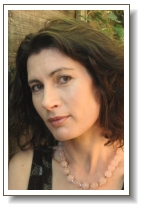 Kirsten Ellis is the author of Star of the Morning: The Extraordinary Life of Lady Hester Stanhope.
It tells the dramatic story of Lady Hester Stanhope – a wilful beauty turned bohemian adventurer – who left England as a young woman, becoming the greatest woman traveller of her time and created her own exotic fiefdom in the Lebanese mountains where she died in 1839.
It has already been described as 'non-fiction that reads like a novel – evocative, exciting and compelling.'
It draws on previously unused and overlooked material from three continents to give readers the full story of Hester's exotic life – a story which till now, has never been properly told. This is a story about a passionate, pioneering woman born before her time, who was criticized and abused for her independent spirit.
Buy from Amazon.co.uk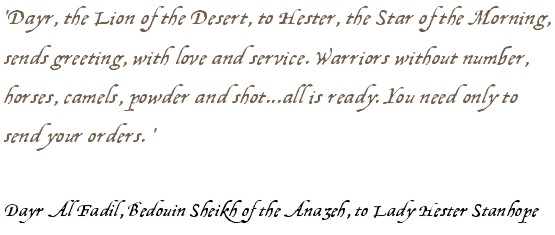 Reviews
'As Kirsten Ellis vividly shows, Hester Stanhope's story is one of brave (and often foolhardy) triumph over the straitjacket of Regency attitudes and the even more hidebound conventions of Islamic society. Stanhope was the subject of a recent study … but Ellis has unearthed startling new aspects of this remarkable woman's life, such as Hester's relationships with no fewer than three Napoleonic spies. Ellis's enthusiasm for her heroine makes Star Of The Morning a fascinating study with some trenchant points about the position of strong-minded women in male-dominated societies.'

Barry Forshaw, Daily Express, 29 August 2008
'What is it about 'the east' that seems to attract powerful Englishwomen? … Each of them, however, was following in the footsteps of Lady Hester Stanhope, first among equals, and the subject of this spirited new biography … Star Of The Morning is a fascinating and atmospheric biography of a truly remarkable woman. Kirsten Ellis has left no stone unturned in this admirable book, doing some mean travelling of her own in the process'

Katie Hickman, The Daily Mail, 23 August 2008
'Kirsten Ellis…is keen to take her subject out of the category of "benign but barking" to which single women travellers were often confined. The ground has been well covered in earlier works, but Ellis has unearthed fresh material, and retells the story with idiosyncratic panache… Ellis is a vivid narrator with an eye for detail: the perfumed dinners attended by naked female slaves; the dusk return of the swallows to the Umayyad mosque.'

Sara Wheeler, The Daily Telegraph, 23 August 2008