Musings
A Note on Writing 'Star of the Morning, The Extraordinary Life of Lady Hester Stanhope'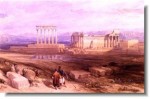 People usually ask me how I chose my subject, and I would say that in this case my subject seemed to choose me. My curiosity began with a picnic in 1992 in the ruins of Hester's fortress in southern Lebanon. My friends, two sisters Wafa and Rania Stephan, had grown up in the nearby village of Joun, but their lives had taken them to Paris and England by way of Australia. They had not seen their house since the civil war, and they invited me to return with them. They took me to see where Hester had lived, now a wilderness of stone walls, olives groves and an overgrown garden. I remember there was quite a lot of gunfire, not that far off. The room in which she had died was now dominated by a large fig tree. [...]

Wild at Heart
British Vogue, October 2003
The greatest woman traveller of her time, Lady Hester Stanhope created her own oasis in a hostile nineteenth-century Middle East. Author Kirsten Ellis retraced her footsteps.

In The Footsteps of Lady Mary Wortley Montagu: Hester, Harems and Hamams…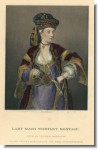 This essay does not appear in Star Of The Morning; it's merely a fanciful snippet gleaned from my research in Istanbul, intended for the interested reader, and my fellow hamam addicts!
When Lady Hester Stanhope arrived in Constantinople in November 1810, she was well aware that she was following in the footsteps of the celebrated Lady Mary Wortley Montagu, a glimpse of whose glamour can be seen in this rather well-known portrait (pictured here). She arrived in 1716 to follow her husband, who had been appointed Ambassador to Turkey. 'Lady W. Montagu's' musings on life in Turkey – and in particular the lot of Turkish women and her insights into the most intimate details of their lives – published after her death in 1761, had made her the posthumous literary celebrity of Hester's parents' generation.
Portraits of Hester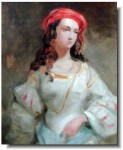 Hester once remarked to her doctor Charles Meryon that she intended never to have her portrait made. By then she was in her late 30's. Yet surely she must have had numerous opportunities, at a time when having one's portrait made was de rigueur. She was living with Pitt, for example, when he sat, numerous times, for the distinguished artist John Hoppner – I always found it intriguing to imagine what he might have made of her. I came to the conclusion that this claim of Hester's – that she had deliberately refused to sit for a formal portrait and therefore commit an image of herself to posterity – did not necessarily include portraits for which she may well have posed, albeit fleetingly, in her youth, or those which she was not willing to acknowledge publicly.[...]