Star of the Morning
The Extraordinary Life of Lady Hester Stanhope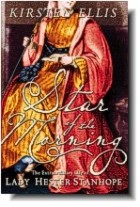 The wily Mehmet Ali, the ruler of Egypt and her erstwhile friend, grumbled: 'The Englishwoman has caused me more trouble than all the insurgent people in Syria or Palestine.'
In all ways, Lady Hester Stanhope pushed the boundaries of what was considered possible – or acceptable – almost two centuries ago. She refused to accept that it was preposterous for a woman to think of herself as any man's equal.
Historians and biographers have always cast Lady Hester Stanhope as the classic English eccentric living out a romantic if ultimately tragic, even macabre, fantasy. Yet that was only a small part of her remarkable story. An early failed love affair and suicide attempt left a lasting trauma. Her much-loved younger half-brother and the man she intended to marry died together on the same battlefield. Dark secrets kept her family divided. But she was always ambitious. When Napoleon's imperial dreams threatened to crush Britain, her uncle, Prime Minister William Pitt, told her, 'If you were a man, Hester, I would send you on the Continent with 60,000 men, and give you carte blanche and I am sure that not one of my plans would fail.' He was only half-joking.
Her life was full of astonishing transformations – from aristocratic wild child to society hostess at Downing Street for the unmarried Pitt – to the bohemian adventurer who lived with her lover in Constantinople before heading east to carve out her own fiefdom in the foothills of Mt. Lebanon. Famous for her wit, beauty and energy, she became the greatest woman traveller of her day. She developed a passion for the Arab world and forged lasting friendships with pashas, emirs and sheikhs – and was revered by the Bedouin, whose cause she championed, as their 'Star of the Morning.'
Previously dismissed, even by her own biographers, as 'poor, mad Lady Hester' or patronised as a failed dilettante, this captivating, ground-breaking biography reveals a far more compelling story. Based on four years of research, sifting through hitherto ignored or unexamined material and piecing it all together like a detective, Kirsten Ellis reveals the true extent of Hester Stanhope's role as power broker in the cut-throat, shifting sands of Middle Eastern diplomacy.
In addition, Kirsten Ellis reveals the complex, fascinating truth about a woman whose gift for friendship linked her to many of the most influential figures of her time and the breadth of her ambitions, both personal and political, and how those two facets intertwined.
This book sheds new light on her closest relationships, with men like her cousin, Lord Camelford, a would-be Napoleon assassin, the diplomat Granville Leveson-Gower, General Sir John Moore, the South American revolutionary Francisco de Miranda, and her younger lover, the political idealist Michael Bruce – as well as her friendships with her cousin Admiral Sir Sidney Smith and Sir Joseph Banks – some of which have entirely escaped the notice of earlier biographers.
For the first time her ambitions and achievements in the Middle East are seen in the light of her motives and reputation among the Bedouin. Starting new facts emerge about her role in a secret alliance that prefigured the ambitions of Lawrence of Arabia a century later. Beyond that, this book reveals the extent of her activities in intelligence-gathering – and as a double agent – for Hester pitted her wits against not just one, but three of Napoleon's prized spies.
Towards the end of her life, with the grand scale of her political ambitions thwarted, Hester turned her restless energies to seeking answers to religious questions, immersing herself in Sufism and Jewish mysticism, and millennialist Islam. In her search for love and her place in the world, her willingness to risk everything brought her both intense happiness and anguish. But above all, she was unrepentant about wanting an extraordinary life.
This evocative, meticulously researched account reinterprets Lady Hester Stanhope's extraordinary life for the twenty-first century and offers a glimpse into her preoccupations – with those she loved and the nature of betrayal, religious conflicts and the search for spiritual meaning in a war-torn Middle East – that offer an absorbing legacy for our own time.
Buy from Amazon.co.uk